TRIBUTE to ROBERT L. MORRIS
"PARATROOPER----PATHFINDER"
517th PARACHUTE INFANTRY COMBAT TEAM
Special Ops Team
____________________________________________
At the age of 26 he served with the 517th Parachute Infantry Combat Team, 2nd Battalion, Compant "E", 3rd Platoon, 1st Squad from April 1943 to Jan 1945. The 517th graduated from "Airborne Jump School" (Ft Benning, Ga.) a few months behind the "506th Parachute Infantry" which later became the HBO Mini Series "The Band Of Brothers".
His first combat was in Italy, North of Rome, in the towns of Civitavecchi, Grosseto, Montersario and Fallonica where he was awarded the CIB. While in Italy, Robert volunteered for "Airborne Pathfinder", making several Practice Combat Jumps with Pathfinder gear. This was in preparation for the upcoming "Southern France Invasion know as "Operation Dragoon". Starting the invasion, he made his first combat jump behind enemy line on Aug 15th, 1944 @ 3:30 am. His mission, as a Pathfinder, was to establish a "DZ" (drop zone) for his Batallion who were to jump in at 4:30am. He encountered enemy resistance but completed his mission. Moving East, through Southern France, the 517th fought many battles and captured many towns. After 93 days of combat they fought their final battle, Nov 1944, capturing the town of Sospel, France located in the French Alps.
In Dec 1944, the 517th was ordered into one of the worst battles fought in Europe "The Battle of the Bulge" in Belgium. After capturing the town Of Manhay on Dec 27, the 517th was assigined to take the towns of Trois-Ponts and Mont Fosse, Jan 3rd, 1945, In extremely heaving fighting, the 517th incurred losses of, 20 killed and 90 wounded. Robert, being one of the wounded was evacuated to an Aid Station then onto to a Hospital in England. The 517th went on to capture both towns that day. Robert was awarded the "Bronze Star" in July 1945.
In a seven month period, he fought in 4 Major "European Battle Campaigns" and received the "Bronze Star", "Purple Heart" and several other combat medals. He was Discharged Oct, 1945
DOG TAGS FOUND ON BATTLEFIELD
"RETURNED 67 YEARS LATER"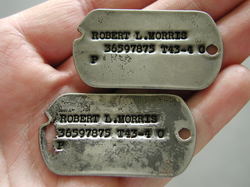 VISIT THE 517th WEB PAGE: (Click on Robert's Photo)............................................. I would like to thank Gene Brissey and Clark Archer, both 517th Veterans, for all the information they gave me in 1999.
________________________________________________
WW2 Facts: *
*Of the 16,000,000 America Troops to serve in WW2, less then 10% ever saw Combat. This is why War is so costly, It took 10 soldiers to support 1 Combat Soldier in WW 2
* The 517th was a "Special Ops Team".. During their 150 days of combined Combat, they were attached to the 82nd, 17th, 13th Airborne Divisions and several other Units as needed. They were nicknamed "The Fireman"
* In a 150 days of combined Combat the 517th casualty rate was 81.9%. The Team had 1,576 wounded and 247 K.I.A.
*

The most dangerous medal to be awarded was the "Combat Infantry Badge" (CIB). It's a badge, (shown below) blue, a musket in the center, surrounded by an oak leaf wreath. To be awarded the CIB you must have engaged the enemy while under fire.
CLICK ON "DOG TAGS" TO SEE ALL PHOTOS 43-45
In Jan, 2012, A Jean-Louis Seel from Aubel, Belguim found this Website and Emailed me stating that he had recovered my Fathers Dog Tags. They were found in the remnants of a Foxhole on an old Battlefield near the town of Manhay, Belgiumin in 1988. The Tags were fused together when found, probably from being exposed to high heat at some point.. This explaines the hole in one Dog Tag
The 517th PIR, captured Manhay from the Gremans on Dec 27, 1944.
_____________________________________________